Comprehensive efforts balance age-appropriate, physical and psychological safety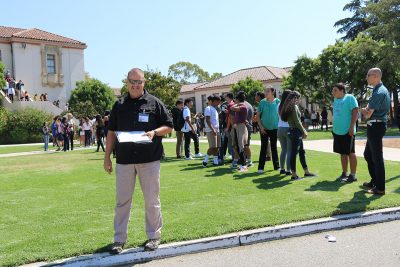 Santa Barbara Unified School District Board of Education took action to respond to the district's focused priority: assess and enhance comprehensive school safety planning in kindergarten through 12th grade throughout the school district. The Board of Education formally adopted agreements with local public safety agencies to align Standard Response Protocols from "I Love U Guys" Foundation, founded by Ellen and John-Michael Keyes. The Board further evaluated efforts on restructuring and standardized school safety planning.
"It is not a matter of if, but when a school will deal with a crisis," said Kelly Moore, Safety Coordinator for Santa Barbara Unified School District. "We evaluated each school's safety plan that revealed, while our current plans are robust; it was clear that we needed to provide direction, re-organization, and standardization. Our district responded by adopting a framework for crisis prevention and are actively training as a comprehensive team on standardized crisis preparedness and response."
In the 2018-2019 school year, Santa Barbara Unified School District has:
Adopted Standard Response Protocols as part of the efforts of the "I Love U Guys" Foundation to bring about clear, distinct, common language between first responders, students and staff.
Trained over 100 teachers and staff on the PREPaRE model that provides educators guidance on roles and responsibilities in school safety to respond to the physical structures of a school environment as well as programs that support the emotional and behavioral well-being of students and staff.
Conducted more than 25 drills since the first day of school on August 22, 2018 based on universal, monthly scenarios that have a standard focus.
Participated in a "Train the Trainer" course in partnership with local fire, law enforcement, and Emergency Medical Services partners to standardize response to all hazards at our schools, and specifically Active Shooter Incident Management.
Worked with local emergency responders to explore expanding Community Emergency Response Team (CERT) training offerings to our schools.
Planned a "Train the Trainer" class for Standard Response Protocol from "I Love U Guys" Foundation that will be provided to 80 staff (two from each school) to take place on October 22, 2018.
California Education Code requires schools and districts to annually revise and update school safety plans through a collaborative process. Each school's plan must be approved annually by the Board of Education on or before March 1.
To learn more about Santa Barbara Unified School District's Crisis Prevention & Preparedness: Comprehensive School Safety efforts, information and materials are available online via the Board of Education September 25, 2018 Meeting Agenda.