Santa Barbara Unified School District participates in nationwide Great Shakeout Earthquake Drill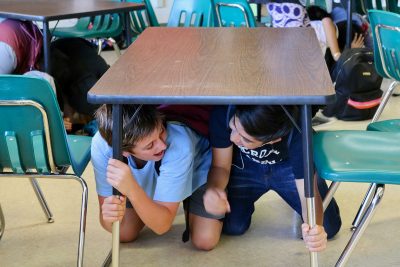 Santa Barbara Unified School District students in preschool through 12th grade participated in the nationwide Great Shakeout Earthquake Drill. Students practiced the model of "Drop, Cover, and Hold On," a behavior that helps children develop muscle-memory so they will react quickly and correctly when the ground starts shaking. In California, more than six million kindergarten through 12th grade school-aged children were registered to participate in the Great Shakeout.
"I take seriously the preparation and development of systems to respond to emergencies," said David Ortiz, Principal of La Colina Junior High School. "The Great Shakeout plays an important role in how our school prepares. We have cultivated a mindset around practice and preparation, which leads to a more confident school community in the event of a real disaster."
La Colina Junior High School's annual shakeout drill involved student volunteers to role play injuries and parent volunteers participated by attempting to reunify with their child after the earthquake scenario. Teacher teams throughout the district, trained to respond to scenarios in roles such as search and rescue, medical and emotional support, were able to practice and evaluate their action protocols.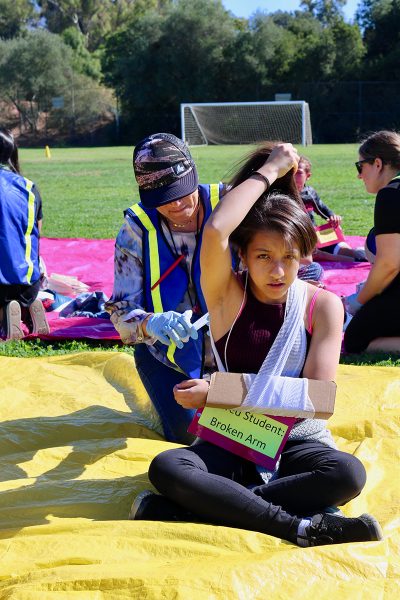 Among the district's nine elementary schools, schools have been reminding families that in the event of a disaster, children will only be released to adults listed on the emergency card on file and encouraged to keep their contact information up-to-date.
"To participate in these drills, we are able to assess and address our school-wide needs for safety, said Kelly Fresch, Principal of Adams Elementary. "Regardless of the type of emergency, preparedness is the key to ensure student safety and wellbeing. We are constantly evaluating how to improve our practices and today's drill was essential to help us assess our strengths and ways we can improve as a school community."
Santa Barbara Unified School District has conducted more than 25 drills since the first day of school on August 22, 2018 based on a variety of monthly emergency scenarios developed in consult with Kelly Moore, Santa Barbara Unified's Safety Coordinator.