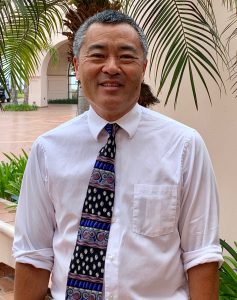 After 40 years as an educator,  Superintendent of Santa Barbara public schools Cary Matsuoka has announced his decision to retire at the end of the school year, effective June 30, 2020.  Matsuoka announced the decision at the October 22, 2019 board meeting before a packed crowd at Santa Barbara Junior High's Marjorie Luke Theatre.
During the course of his long career in public education, Superintendent Matsuoka served 17 years as a high school teacher and 23 years as an administrator.  He taught high school chemistry, AP Computer Science, physics, and math and directly taught over 2,500 students in his classrooms. As an administrator, he was responsible for the education of 150,000 students over 23 years and was involved in the granting of 16,000 high school diplomas. 
Along with raising three sons with his wife, Polly, Matsuoka has devoted his life to serving students and families in California's public schools. His career is marked by his calm, steady leadership, positive spirit, and courage to tackle difficult decisions to create needed change, despite political pressures.
After several decades in the Bay area, Matsuoka was hired as the superintendent of Santa Barbara Unified School District on July 1, 2016 with a mandate to focus on three needs – improve the relationships and culture of trust inside the district, build needed systems, and get the district finances in order. 
"I am proud of the momentum and culture that I am passing along to the next superintendent, the systems that are in place, and the solid financial standing of our district,"  said Matsuoka, whose original timeline was to retire in June 2019. He postponed retirement when he identified three pressing needs that required his on-going presence – first, the hiring of the next cohort of principals at McKinley, La Cumbre, La Colina, and San Marcos High School; second, getting a major lawsuit resolved and have now received a favorable judgment; and continuing to build up the leadership team for the district.  "I was determined to build culture and systems that would survive the next transition of leadership and I can now retire knowing that I did my best to leave Santa Barbara Unified in a better place."
Board President Wendy Sims-Moten took the news as bitter sweet.
"I respect and support his decision to retire, but let's be very clear: this board did not ask him to leave," said Board President Wendy Sims-Moten. "Cary is a very effective leader who has had the instincts, wisdom and courage to make tough decisions and take needed action. It has pained me to hear the way that some members of our community have mis-characterized Cary, perhaps not understanding the kind of leader and man he is. This has been a rocky road at times, but I've been so impressed with his ability to stay grounded and on course. During his time here, he has assembled an incredibly strong group of educators to lead our schools, and has helped our district put the foundation and systems in place to continue moving in the right direction. Now, we will begin the very important work of searching for the next leader to help us continue the momentum that Superintendent Matsuoka has created. I thank him for his leadership. He's going to be very missed."
Superintendent Matsuoka's district Cabinet – assistant superintendents Dr. John Becchio, Shawn Carey, Dr. Raul Ramirez, Todd Ryckman, Dr. Frann Wageneck and Meg Jette, along with along Chief Educational Technology Officer Todd Ryckman and Public Information Officer Camie Barnwell – congratulated Matsuoka on his decision to retire, and made the following shared statement.
"We express our appreciation to him for his 40 years of dedication to students.  We are grateful to have had the opportunity to serve with him during the last four years of his career in education. During Cary's tenure as Superintendent, we have experienced tremendous growth as a district. He prioritized the hiring and development of highly skilled staff, cultivated a strong internal culture characterized by collaboration and shared decision-making, and pursued a relentless commitment to breaking down barriers in access to educational opportunity for all students. We are committed to building upon his significant contributions in continuing the important work of serving the children and families of our community."
Former Santa Barbara School Board President Kate Parker acknowledged Matsuoka's many contributions.
"It was a pleasure to work with Cary during our time together at Santa Barbara Unified. It's never easy to be a school district superintendent, and I'm forever grateful for his educational leadership and for his calm, measured guidance on district challenges," Parker said. "I send him many congratulations on his retirement, and I wish much success to the Board as they search for great candidates to step into his shoes."
Matsuoka said his experience at the helm of Santa Barbara's public school system has been rewarding.
"I am proud of what we have accomplished these last three years, the changes in leadership standards and culture, and I commit to finishing my career with everything that I have inside of me," he said. "I look forward to the next eight months as we turn the corner to 2020 and enroll our incoming kindergartners – the future class of 2033 – and graduate the class of 2020."
At the November 12, 2019 meeting, the school board will initiate the process for the search and hiring of the next superintendent.  There will be multiple opportunities for input about the next superintendent and the district will begin posting information on the district website about the timeline and process for the search.