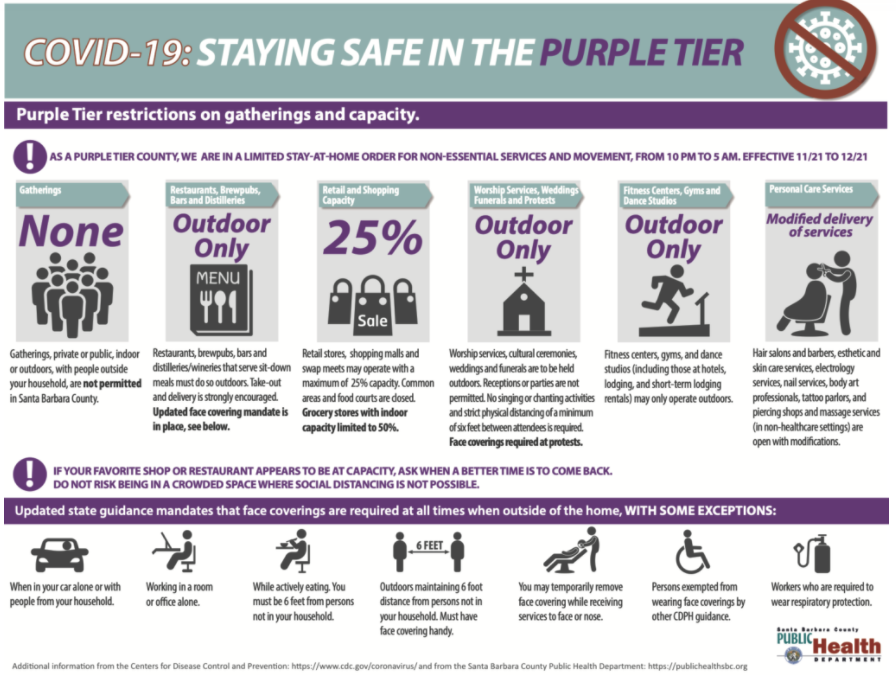 Hello Santa Barbara Unified Families,
I hope this message finds you all healthy and well following a much-deserved Thanksgiving break.
For this week's update I  wanted to briefly bring to you a few important updates and reminders:
School Board Meeting: 6:30 pm Tuesday, Dec. 1
We are holding a special school board meeting on Tuesday, December 1 at 6:30 pm via Zoom to discuss the county's current COVID transmission rates. Click HERE for meeting details.
We are pleased to host three special guest speakers to inform our conversation:
Dr. Peggy Dodds, pediatrician
Dr. Lynn Fitzgibbons, Infectious Disease Specialist
Susan Klein-Rothschild, spokesperson for Santa Barbara County Public Health
As part of the meeting, we will also be discussing an elementary waiver application. An approved waiver would allow us to reopen our K-6 schools with in-person instruction, even if we remain in the Purple tier. Elementary parents will be asked to re-confirm their selection later this week for either in-person or hybrid instruction under the "purple tier." As a reminder, the waiver is not permitted at the secondary level.
Intra-District Transfer & Enrollment: Window Opens Tuesday, Dec. 1
For those interested in transferring to a campus that is not your neighborhood school, you must complete an intra-district transfer application, available beginning Tuesday, December 1, 2020 through Friday, January 29, 2021 on the district website under "Transfers."
Welcome to Open House!
Our junior high and high school campuses invite you to a virtual Open House presentation to learn more about our secondary schools. Click HERE for times and Zoom links for events at each campus.
New Website and Virtual "Programs of Choice" Showcase coming your way soon
In the coming days, we'll be launching a new website, which includes access to our new web page devoted to the many specialized learning and programs-of -choice offered throughout our district. Stay tuned for details.
FAQ Page Updates
Adapting to change and uncertainty is one of the greatest challenges of this pandemic.  We all need to remain flexible and strive to stay informed. Our Frequently Asked Questions page continues to be updated as conditions change so please check it regularly.
Please review this information regarding guidance on the Limited Stay-at-Home order issued for all counties in the Purple Tier.
With gratitude,
Hilda Maldonado
Superintendent