Overview
The historic Santa Barbara High School Peabody Stadium was built in 1924. The Grandstand Replacement and Stadium Renovation Project intends to modernize the nearly 100-year-old stadium's infrastructure and athletic field. The project scope includes:
Construct a new 2,300 seat concrete grandstand and press box that will bring the nearly 100-year-old facility into compliance with current State and regulatory building and accessibility codes.
Expand the athletic sports field to create a California Interscholastic Federation (CIF) regulation track and artificial turf field to support competitive athletic events and enhance the use of the facility by Santa Barbara High School and the community.
Replace two failing storm drain conduits to allow for continued pass through of municipal storm water systems and to mitigate ponding or flooding within the stadium and surrounding residential areas during storm events.
Modernize and replace the athletic sound and lighting systems for energy efficiency and to mitigate impacts to areas outside of the stadium.
Timeline
JULY 2017 Project Contract Award.
AUGUST 2017 Groundbreaking.
APRIL 2020 Estimated Final Completion.
Project Partners
Foundation for Santa Barbara High School; Kruger Bensen Ziemer Architects, Inc., Architect; Flowers & Associates, Inc., Civil Engineer; Lundgren Management Corporation, Construction Management; AMG & Associates, Inc., General Contractor; and Knowland Construction Services, Division of State Architect Inspector.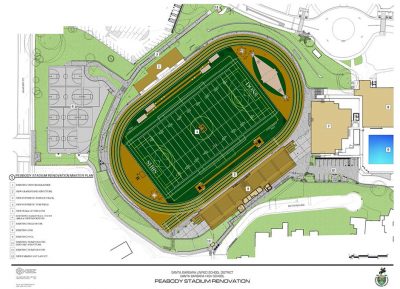 Click on the Facebook page below to view project photos and updates:
Budget
Construction Cost: $28.7 Million
Total Project Budget: $39 Million
The Santa Barbara High School Peabody Stadium Project is funded by the Foundation for Santa Barbara High School, Santa Barbara community bond measures, developer fees, and leverages State of California seismic mitigation funds.
Project Considerations
Complexities of a nearly 100-year-old facility.
Visible aspects of the project only represent 30% of the total cost. The remaining 70% is the municipal storm drains, reshaping and grading of the field, utilities, and retaining walls.
Inflation in the construction business that average increases of 8-10% on an annual basis in the south coast region.
Leveraging $11 million of State and local community investments.
Equity of athletic opportunities for Santa Barbara High School students to use the renovated athletic stadium for training and competition activities on campus.
Contact Information:
Steve Vizzolini, Director of Facilities and Modernization
Santa Barbara Unified School District
Phone (805) 963-4338 x6238