The U.S. Department of Agriculture prohibits discrimination against its customers, employees, and applicants for employment on the bases of race, color, national origin, age, disability, sex, gender identity, religion, reprisal, and where applicable, political beliefs, marital status, familial or parental status, sexual orientation, or all or part of an individual's income is derived from any public assistance program, or protected genetic information in employment or in any program or activity conducted or funded by the Department. (Not all prohibited bases will apply to all programs and/or employment activities.)
If you wish to file a Civil Rights program complaint of discrimination, complete the USDA Program Discrimination Complaint Form, or at any USDA office, or call (866) 632-9992 to request the form. You may also write a letter containing all of the information requested in the form. Send your completed complaint form or letter to us by mail at U.S. Department of Agriculture, Director, Office of Adjudication, 1400 Independence Avenue, S.W., Washington, D.C. 20250-9410, by fax (202) 690-7442 or email at program.intake@usda.gov.
Individuals who are deaf, hard of hearing or have speech disabilities may contact USDA through the Federal Relay Service at (800)
877-8339; or (800) 845-6136 (Spanish).
"USDA is an equal opportunity provider and employer."
Did You Know?
We support local businesses and local farmers whenever possible.
Our whole grain rich sandwich rolls, cinnamon rolls, pizza crust, cookies and granola are baked fresh daily .
We make our own breakfast and lunch entrées, salad dressings and sauces from scratch
We emphasize wholesome ingredients and avoid high fructose corn syrup, artificial dyes, additives, hormones, antibiotics, hydrogenated oils and known genetically modified foods, and we never use styrofoam.
Every day, our fundamental goal is to serve our students the most nutritious, delicious and wholesome food while supporting local farmers and small businesses in Santa Barbara County.
We offer vegetarian/vegan entrees daily. See our monthly menus.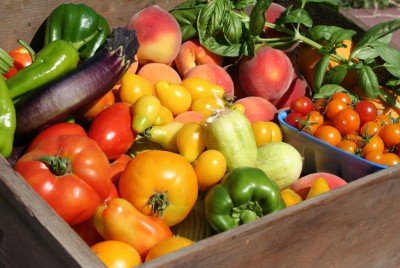 Our Department of Food Services is extremely proud of the accomplishments we are making in our district's kitchens, cafeterias and dining rooms. We adhere to a new standard of food service and production that is entirely based on nutritional integrity and local procurement practices.
Each day, we focus on serving nutritious, delicious, and freshly prepared meals using locally grown food. We recognize the importance of educating our students in kitchen, garden, and academic classrooms about their food choices and the impact those choices have on their health, the community, and the environment.
Meals are prepared from scratch. Our emphasis is on whole foods and "clean" ingredients.
We offer nonfat and one-percent milk that is both hormone-free and antibiotic-free.
Our breads, rice, and pastas are whole grain and each meal is served with a selection of fresh fruits and vegetables that are grown within Santa Barbara County, when possible.
Our baked goods are made with minimal added fats and sugars as we rely on recipes that replace fats and sugars with heart-healthy substitutes, such as applesauce (fat replacer) and fruit juice (sugar substitute).
Breakfast
A free, nutritious breakfast is served every morning in each school cafeteria. Please check with your school cafeteria to identify the time of service. Breakfast includes a choice of an entrée, juice/fruit and milk. In the secondary schools additional items are available for purchase.
Lunch
In the secondary schools there are several choices daily for lunch. In the elementary schools there is only one entrée offered daily. Students on the Free and Reduced Program are entitled to receive a daily entrée, a trip to the salad bar and either milk or juice. Additional items are sold for an additional charge.
We offer, as part of the daily lunch menu. wholesome and delicious vegetarian and vegan entrees. We believe that offering protein-rich, plant based options is an important part of our district's food service initiative, aligning our district's Wellness Policy and our student's health and the health of our planet.
---
For those with mobility disabilities, the Food Service office is not accessible. Call (805) 963-4338 ext. 6279 for accommodation.