Forms you may need: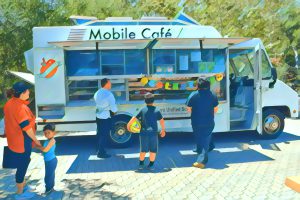 The SB Unified School District and the Department of Food Service has released its annual, confidential meal application for the new school year.
You may choose between the Housing Questionnaire or the online Meal Application before school begins on August 20th.
For families who are entitled to the benefit of free meals and who live with other relatives or families out of economic necessity, the shorter, online Housing Questionnaire is recommended.
Everyone else will need to complete the Online Meal Application.
Information about Pandemic-EBT cards:
Because schools are closed due to COVID-19, families who are eligible for free or reduced-price meals can receive extra food benefits to help feed their children. These food benefits are called Pandemic EBT or P-EBT.
Qualifying families will receive up to $365 per eligible child on a P-EBT card. The P-EBT card can be used like a debit card to buy food and groceries for your children.
For questions specific to the P-EBT program: Click HERE for more information, or call California's EBT customer service center at (877) 328-9677. You can reach them 24 hours a day, 7 days a week.
For questions and support around any part of this process, please call  SB Unified at (805) 963-4338 ext. 6208 and we are happy to assist you.
For our families who choose not to participate in the meal program or who already know they don't qualify, click on the Online Meal Application and check the "I do not qualify for free or reduced meal benefits" box, add the names of your students, sign and submit your meal application".
In support of our district's ongoing commitment to environmental sustainability and best practices, this year the department will not be mailing paper meal applications and instead we have created this easy, on line method for submitting this important document.
We encourage all students to deposit money into their personal cafeteria accounts through myschoolbucks.com which will ensure that serving lines are moving quickly and that students don't need to handle money.