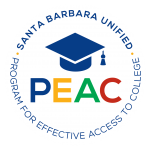 Santa Barbara Unified is focused on a vision, mission, and core values to close the achievement gap and do whatever it takes to improve all children's chance at success in school and life from birth to college graduation. Through an intentional private-public partnership between the Santa Barbara Unified schools and the philanthropic sector, as well as local colleges, businesses and stakeholders serving the community-children and their families are being supported.
The aim of the Community of Schools project (the Project) is to significantly change the educational trajectory of children who have not typically been afforded opportunities that result in school readiness, by providing them with a clear pathway and support to achieving their goals. The Community of Schools aligns with the goals of the school district's strategic plan with a greater focus on early childhood education, school readiness, family and community engagement, and college readiness. The pathway to student success identifies benchmarks and milestones to guide the Project.
The Community of Schools strives to change outcomes for children by addressing the four comprehensive components of the Project plan: Early Childhood Education and Kindergarten Readiness; Parent Education, Engagement and Leadership; the Community School Model; and College Readiness. The plan incorporates continuous program improvement through evaluation and metric driven decision-making. The Community of Schools is supported through blended funding-including school district funds, partnerships with local community agencies and colleges, and private funds at approximately $1.0 million to supplement key strategies and programming to meet the goals of the Project.
---
Noozhawk article, November 22, 2015: PEAC Provides Westside Students with Glimpse of Academic Excellence, College Futures
For more information, contact:
Dr. Patricia Madrigal, Coordinator, pmadrigal@sbunified.org (805) 963-4338 x6217
PEAC Headquarters, PEAC@sbunified.org