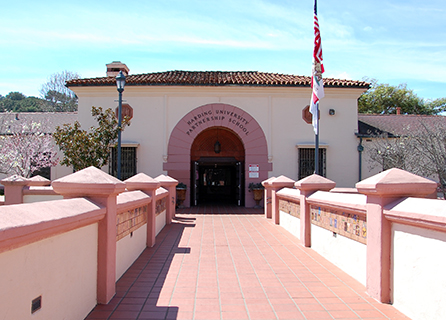 General Information
Grades Served: Preschool-6
Address: 1625 Robbins Street, Santa Barbara, CA 93101 | Map
Phone: (805) 965-8994
Fax: (805) 962-1846
TDD: (805) 965-8627
Principal: Ms. Veronica Binkley
E-mail: vbinkley@sbunified.org
School Mascot: Hawks
School Colors: Blue and Green
Website: harding.sbunified.org
School Highlights

Harding University Partnership School is a neighborhood school nestled in the foothills of the Mesa serving over 400 pre-school through sixth-grade students. As one of the oldest schools in the Santa Barbara Unified School District, Harding has veteran staff dedicated to the community, academic excellence and building school pride. Harding's well-established relationship with UCSB's Gervitz School of Education provides multiple opportunities for enrichment, intervention and collaboration in engaging and exciting projects.
In October 2012, the International Baccalaureate Organization authorized the school as an International Baccalaureate World School offering the Primary Years Programme (PYP). This authorization process included three years of staff dedication, multiple hours of professional development and a strong commitment from the Santa Barbara Unified School District. The students, staff and community value this rigorous, meaningful and significantly relevant program which aligns well to the new Common Core State Standards. Visit Harding's website or visit the school to learn more. Harding has a rich, engaging and impressive program and welcomes the community to visit at any time.
Harding University Partnership School is the first elementary school in Santa Barbara County to receive the prestigious International Baccalaureate (IB) designation. Harding teachers and administrators hope to begin collaborating with Dos Pueblos High School and their International Baccalaureate Diploma program to enrich both IBO programs in the district.
The school community at Harding University Partnership School will continue to further develop education for international mindedness, conceptual understanding and inquiry-based teaching and learning that form the hallmarks of an IB education.
Feeder Schools and their District
Harding University Partnership School feeds into La Cumbre Junior High School.