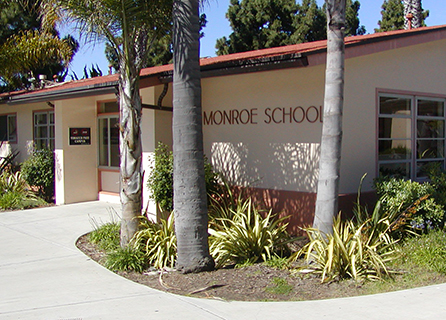 General Information
Grades Served: Transitional kindergarten-6
Address: 431 Flora Vista Drive, Santa Barbara, CA 93109 | Map
Phone: (805) 966-7023
Fax: (805) 963-4198
TDD: (805) 564-4814
Principal: Mr. Brian Naughton
E-mail: bnaughton@sbunified.org
School Mascot: Mustang
School Colors: Blue and Gold
Website: monroe.sbunified.org
School Highlights
Monroe Elementary School – a modern, well-equipped campus – is located on the Santa Barbara mesa. The school was constructed in 1958 on a 9.85-acre site at Flora Vista Drive and Cliff Drive.
Monroe's staff is committed to a learning environment that promotes individual self-worth and academic excellence through an "inclusion" model: all students are served for general education in heterogeneous classrooms. Students are grouped (and re-grouped) for daily instruction in math (45 minutes, grades 2-5) and language arts (45 minutes, grades 3-5) based on performance on specific objectives. Students in K-1 receive individualized small-group instruction in self-contained classrooms with teaming of regular and special education teachers.
Project Read, a multi-sensory, structured language arts program, supports the established reading program and provides a consistent approach to the teaching of phonics and written language. For limited and non-English language learners, a Planned Variation program teaches English using vocabulary and content areas of interest and usefulness to students. All students gain appreciation of ethnic cultures through special units of study and monthly multi-cultural assemblies.
School Recognition
California Distinguished School (1987, 1997, 2002)
Feeder Schools and their District
Monroe Elementary School feeds into La Cumbre Junior High School.