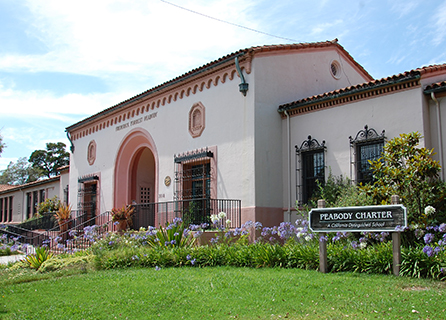 General Information
Grades Served: K-6
Address: 3018 Calle Noguera, Santa Barbara, CA 93105 | Map
Phone: (805) 563-1172
Fax: (805) 569-7042
Principal: Mr. Demian Barnett
E-mail: dbarnett@sbunified.org
School Mascot: Panthers
School Colors: None
Website: www.peabodycharter.org
School Highlights
Peabody Charter School was constructed in 1928. It is situated on the north side of the City of Santa Barbara. From the original six-classroom building, Peabody has expanded to its 33 classroom campus for K-6 students.
In 1993, the staff, parents, and students reached a consensus that becoming a charter school would allow the ability, flexibility, and latitude to provide innovative curriculum, development, and instruction. Working together with the Board of Education of the Santa Barbara Unified School District, a contract was negotiated to create a charter school as permitted under Senate Bill 1448 of the State of California. As a charter school focused on meeting students' needs, the school functions with the freedom to create its own academic programs, teaching methods, measures of success, community and family involvement guidelines and fiscal responsibilities.
Among the school's program highlights are: extended school day/late start Fridays; Gifted and Talented Education program; art enrichment; the Splash Zone, which hosts ceramics and fine arts classes daily with our artists in residence; Peabody Peacemakers, a voluntary cadre of upper grade students trained in conflict resolution vocabulary and strategies; second language instruction in English or Spanish; sports.
School Recognition
California Distinguished School (1997, 2000, 2010)
Feeder Schools and their District
Peabody Charter School feeds into Santa Barbara Junior High School.