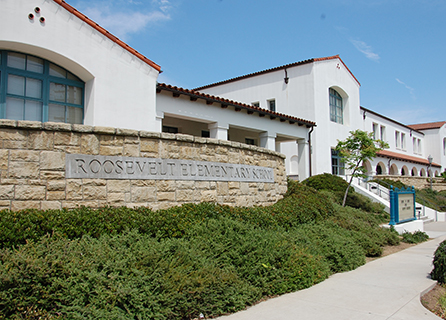 General Information
Grades Served: Transitional kindergarten-6
Address: 1990 Laguna Street, Santa Barbara, CA 93101 | Map
Phone: (805) 563-2062
Fax: (805) 563-6092
TDD: (805) 563-2062 x204
Principal: Ms. Valerie Galindo
E-mail: vgalindo@sbunified.org
School Mascot: Rough Riders
School Colors: Green and Yellow
Website: roosevelt.sbunified.org
School Highlights
Roosevelt Elementary School is a diverse and integrated school community. Located in the upper east side of Santa Barbara, the school site is slightly under four acres. The classrooms are housed in a new, two-story building which was completed in the 1999-2000 school year. The new building has a state-of-the-art networked 32-station computer lab and an art/science room.
From 1999-2002, Roosevelt staff and parents collaboratively developed a strategic plan with specific schoolwide goals. The Roosevelt school community is working together to support these goals: develop a strong and consistent academic program; create a consistently implemented, schoolwide behavior management system; improve the progress of English learners; create parent involvement and support reflecting the diversity of the school's student population; support students to be emotionally and physically prepared to further their education; and unify the staff in the pursuit of common goals.
Roosevelt's academic program includes: comprehensive reading program for students at all levels; Gifted and Talented Education (GATE) for identified students in grades 3-6 in core language arts and mathematics, as well as enrichment via a school news program; Learning Center which provides academic support to students with exceptional needs; Discipline Based Art Education emphasizes art history and criticism as well as studio art; 6th-grade trip to Outdoor School; participation in Los Marineros, a marine biology program developed by the Museum of Natural History; afterschool programs; instructional music program; and PTA-sponsored cultural and arts assemblies and field trips.
School Recognition
California Distinguished School (2006)
Feeder Schools and their District
Roosevelt Elementary School feeds into Santa Barbara Junior High School.