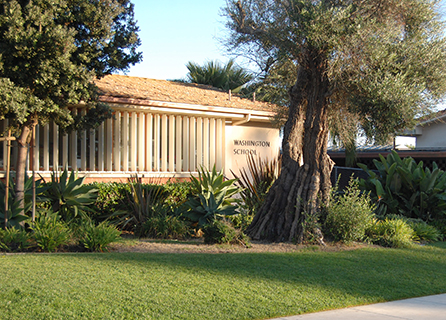 General Information
Grades Served: K-6
Address: 290 Lighthouse Road, Santa Barbara, CA 93109 | Map
Phone: (805) 965-6653
Fax: (805) 962-5328
TDD: (805) 965-6653 x103
Principal: Ms. Denise Granger
E-mail: dgranger@sbunified.org
School Mascot: Wildcats
School Colors: Red, Black, and White
Website: washington.sbunified.org
School Highlights
Washington Elementary School was established in 1953 in 8.2 acres overlooking the Pacific Ocean and the Channel Islands.
A program of academic and personal goals focuses student attention on behaviors important for developing well-rounded citizens of tomorrow. Each month there is an academic and a personal goal. One month may highlight perseverance (personal) and reading (academic). Students all have the same definition for perseverance and discuss it in class during the month. At the end of the month, specific students are acknowledged in a school assembly for excellence in the academic and the personal areas.
School Recognition
California Distinguished School (2000)
Feeder Schools and their District
Washington Elementary School feeds into Santa Barbara Junior High School and La Cumbre Junior High School.